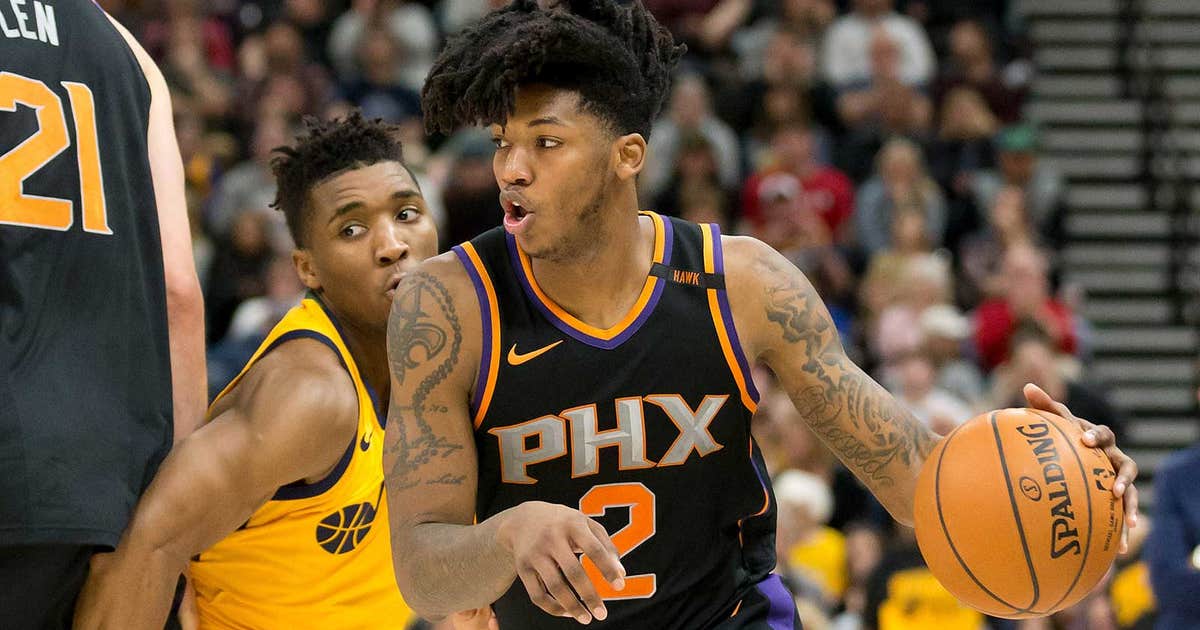 Streaming live on FOX Sports GO
SALT LAKE CITY — No one needs to tell the Suns how tough it is to deal with the Jazz these days.
Phoenix has lost nine of its last 10 games with Utah, most recently falling 107-97 in Salt Lake City on Feb. 14. Josh Jackson and Devin Booker combined for 50 points and Elfrid Payton posted a triple double with 13 points, 12 assists and 11 rebounds. It wasn't enough to counter six Jazz players scoring in double figures, led by 24 points from Donovan Mitchell as well as double-doubles from Rody Gobert and Derrick Favors.
The Suns are in desperate need of any positive momentum at this point. Phoenix (19-50) has won five total games since the start of January and has lost 16 of its last 17 games. The latest setback came on Tuesday in a 129-107 loss to Cleveland. The Cavaliers seized control early and built up a 20-point lead against the Suns by the end of the first quarter.
LeBron James earned his 69th career triple-double, posting 28 points, 13 rebounds and 11 assists. Phoenix had nothing to counter James' brilliance. Booker failed to reach 30 points for just the second time in eight games and had harsh words for his team's maturity level following the loss.
"You look at teams like Cleveland: you make one mistake and you're out the game," Booker told reporters after the game. "We have been babied a little bit and it shows sometimes. We need to look ourselves in the eyes all together as a team and understand that this game isn't given to you."
"I think our whole team has been spoiled enough, including myself, with playing time at a young age. To where we get to play through mistakes and sometimes there's punishment, sometimes there's not. … We've been babied a little bit and it shows at times." pic.twitter.com/wZ03GTY95Y

— FOX Sports Arizona (@FOXSPORTSAZ) March 14, 2018
Utah comes in with a seven-game winning streak, and it's been more than the Jazz's trademark strong defense that has fuled the surge.
The Jazz dismantled the Detroit Pistons from the opening tip in a 110-79 victory on Tuesday night. The Jazz posted season-highs in points in a quarter (42) and field goal shooting percentage (.810) in racing out to a 42-21 lead by the end of the first quarter. They ultimately shot 55 percent from the field and had 29 assists on 42 baskets in a game where they led by as many as 39 points.
"We play for one another," Gobert said. "Everyone wants to win. Everyone wants to share the ball. It's fun."
The Jazz will need to continue their strong play to solidify its position in a tight battle for a Western Conference playoff berth. At 38-30, they are tied with San Antonio for the eighth (and final) position in the West, but they are within two games of fourth-place Oklahoma City (41-29). But they're also just one game clear of  10th-place Denver (37-31).
Gobert has been a beast for Utah on both ends, anchoring the defense and taking a lead role in generating offense. He is averaging 18.7 points on 65.8 percent shooting, 13.9 rebounds and 2.3 blocks during the team's winning streak.
An efficient offense only makes Utah's defense even more lethal. The Jazz have held 17 of their last 21 opponents under 100 points and have posted a 16-1 record in those games.
They have done it, in part, by locking down the perimeter. Utah has allowed just just 22 percent shooting from 3-point range over its last four games. Jazz opponents have combined for just 20 made 3-pointers in that stretch.
"When the ball goes in, we're hard to stop," Jazz forward Jonas Jerebko said. "It starts on the defensive end for us though. We've been doing a really good job on that end."
–Credit: FOX Sports Digital